Singapore Attraction Bundle Tickets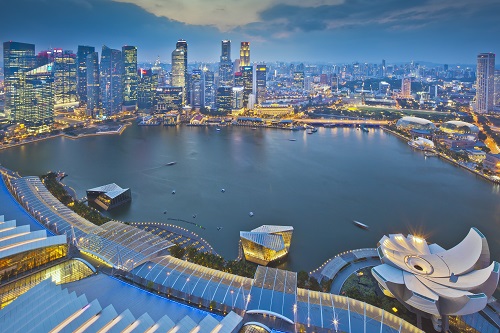 Varighet: 1 Dager
Produktkode: SGattbntickets
Singapore Attraction Bundle Tickets

Note: E-Tickets will be issued to you within 3 working days after purchase. If it is not received, kindly contact tour.sf@wtstravel.com.sg
Sea Aquarium
Enter and explore the marine realm of S.E.A. Aquarium™, home to more than 100,000 marine animals of over 1,000 species, across into 50 diverse habitats, each one as fascinating as the next. It's an experience you won't forget.
Adventure Cove
Thrilling slides and encounters with marine life – all in one place.
At Adventure Cove Waterpark, you can take high-speed water slides, laze the day away drifting on a lazy river, snorkel with 20,000 tropical fish over a colourful reef, wade among rays and even come face to face with sharks! Come have fun today! Where the water's full of life.
Garden By The Bay
is a nature park spanning 101 hectares (250 acres) of reclaimed land in central Singapore, adjacent to the Marina Reservoir. The park consists of three waterfront gardens: Bay South Garden, Bay East Garden and Bay Central Garden. The largest of the gardens is Bay South Garden at 54 hectares (130 acres).
Gardens by the Bay is part of a strategy by the Singapore government to transform Singapore from a "Garden City" to a "City in a Garden". The stated aim is to raise the quality of life by enhancing greenery and flora in the city.
Singapore Zoo
Since 1973, Singapore Zoo has been known for having among the most beautiful wildlife park settings in the world, where animals roam freely in open and naturalistic habitats.
Singapore Zoo is also well-known for its walk-through exhibits that bring animals and visitors together in one space for incredibly intimate encounters. Wander into the spectacular diversity of the Fragile Forest where flying foxes soar freely, mousedeers tread gingerly across your path, and ring-tailed lemurs bask in full view on the open sundeck.
River Safari
River Safari is the newest addition to Wildlife Reserves Singapore's portfolio of award-winning parks. Nestled between Singapore's two award-winning wildlife parks – Singapore Zoo and Night Safari – River Safari offers an unforgettable adventure inspired by the world's most iconic rivers. This $160-million attraction features state-of-the-art exhibit design as well as the world's largest freshwater aquarium. Housing one of the world's largest collections of freshwater fauna, the park features over 6,000 animals including 40 threatened species. And that includes Singapore's resident giant pandas, Kai Kai and Jia Jia.
Take a leisurely stroll and meander through the park on an exploratory river adventure of the Mississippi, Congo, Nile, Ganges, Mekong and Yangtze rivers. With the pristine Upper Seletar Reservoir as a backdrop, River Safari is also home to the Giant Panda Forest, Squirrel Monkey Forest and the enchanting Amazon Flooded Forest.
Night Safari
Opened in 1994, Night Safari is the world's first nocturnal wildlife park. Today, the award-winning park welcomes more than 1.1 million visitors a year. They come from all over the world to enjoy the unique experience of seeing over 1,000 animals in their naturalistic nighttime habitats.
12-time winner of best attraction category awarded by Singapore Tourism Board, the star of the Night Safari experience is a guided tram ride that takes you across 6 geographical zones of the world. From the rugged Himalayan Foothills to the swampy banks of the Asian Riverine Forest and more, your tram guide will share fascinating facts and tales about the animals and habitats along your journey. Those who prefer a more personalised experience can book a VIP experience on the Safari Adventurer Tour where a dedicated guide can take you and an intimate group of guests on a private tour of the park.
Singapore Flyer
At a height of 165m, Singapore Flyer is one of the world's largest Giant Observation Wheel and also one of Asia's biggest tourist attractions.
Singapore Flyer was conceived and designed by Dr. Kisho Kurokawa and DP Architects, Singapore. It held its groundbreaking ceremony in September 2005 and was launched in 2008. It promises more than just a view, but a panorama that captures Marina Bay's skyline with a glimpse of neighbouring Malaysia and Indonesia.